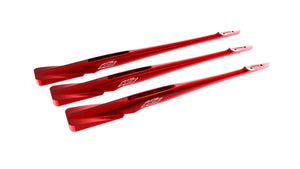 Axis Red Advanced Series Fuselage - Demo
$42900

$429.00

Save $23
Tax included.
Shipping
calculated at checkout.
---
---
Red Advance Fuselage (+40)
If you're into pushing the envelope in Prone, SUP, Wake, Wing or Pump, these will blow your mind. Are you looking to push harder, carve tighter turns and want an even more connected feeling on the larger PNG and BSC front wings? Our new Red Advance fuselage is for you.

In three different sizes you get tons of options to fine tune your setup. This design sees the mast position moved 40mm closer to the front foil, opening up entirely new options for performance.
When choosing your Red Advance Fuselage, it's advisable to possibly opt for a length shorter than you are currently using. If you're currently using an Ultrashort, you might consider the Crazyshort instead.  


The Red Advance fuselage is available in Short, Ultrashort and Crazyshort sizing. Compatible with all the front wings that use the red fuselage. Compared to the regular Red fuselage range, these 3 new little siblings provide a looser, smoother transition from side-to-side. The sensation our testers liken it to is similar to the sensation of moving fins forward in the tracks on a surfboard. Initiating turns becomes easier, which is great in the surf.